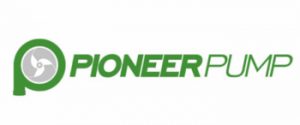 Dade Pump and Supply Company, DBA De Ruiter Electric Motor Company, offers Pioneer Pump products, service and repair in Miami, Fort Lauderdale, Palm Beach and export to the the Caribbean.
Pioneer Pump is the premier provider of standard centrifugal and hydraulic pumps for the toughest applications and industries. Since 1998, Pioneer Pumps has delivered innovative products previously unknown to the pump industry. In addition, Pioneer Pumps is known for superior hydraulic performance and custom manufacturing and engineering that's second to none. With owners who have a combined 65 years of pump industry experience, it's no wonder that the products they deliver are gaining global awareness.
Dade Pump is proud to support the craftsmanship and long-range use of Pioneer Pump products that include, but are not limited to:
Standard Centrifugal Pumps

Solids Handling
Clear Liquids

Pioneer Prime Pumps

Solids Handling
Clear Liquids

Wet Prime Pumps
Vortex Series Pumps
HWR Wear-Resistant Pumps
Pioneer Pump is committed to quality, from the engineering stage to the final product. The company leads the industry with high-quality pumps and materials as the only standard. In addition to innovative pumps, Pioneer Pump also manufactures bearing isolators, large bearings and oversized shafts that are designed to extend the life of each pump. In addition, each pump crafted by Pioneer Pump is created to prevent damage and leaks that can impact the environment. Pioneer Pump products are ideal for municipal, residential, commercial, agriculture, oil and gas mining.
Check out our full selection of Pioneer Pump products to see which pumps will meet and exceed your needs. As an innovator in the industry, Pioneer Pump is adding new technologies and products offered on a regular basis to enhance the industry as a whole. Keep up-to-date with the selection of pumps available from Pioneer Pump, proudly offered by Dade Pump.
Pioneer Pump Products:
Standard Centrifugal Pumps
Solids Handling Pumps
Clear Liquids Pumps
Pioneer Prime Pumps
Solids Handling Pumps
Clear Liquids Pumps
Wet Prime Pumps
GS Series Pumps
GT Series Pumps
Vortex Series
HWR Wear-Resistant Pumps