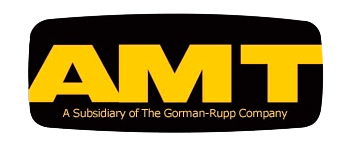 De Ruiter Electric Motor Company offers AMT Industrial Duty and Gorman Rupp products, service and repair in Miami, Fort Lauderdale, Palm Beach and the Caribbean.
AMT Industrial Duty has been manufacturing and selling their products under their own name and affiliated branded names for over 70 years. They consistently manufacture pumps that do the job right. Known for their unique, patented designs, AMT Industrial Duty continues to move forward with the latest and greatest technologies in both electric and engine-driven pumps.
While AMT Industrial Duty Pumps have worked under its own name for a number of years, the company is a part of the Gorman-Rupp company, located in Mansfield, Ohio. Their pumps are used in all sorts of different contexts: de-watering pumps, industrial/commercial coolant pumps, sump and submersible pumps.
The company itself designed most products that carry the AMT Industrial Duty name. They only place their company seal on products deemed worthy by their engineers. Every single one of the AMT pumps brand products is made and manufactured at their main facility, located in Royersford, Ohio.
Constantly innovating, AMT Pumps always has new products under development. Please continue to check here to find their latest offerings and to ensure that you get the best, most up-to-date pumps and pump parts from this well-known company.